Surprise, surprise. Who would've thought Justin Bieber, with a following of 77 million fans, would suddenly leave Instagram? Well… he left because of his ex, Selena Gomez.
It started with Bieber telling his fans to stop bullying his girlfriend, Sofia Richie, or he would privatise his Instagram. That was when Selena decided to drop a snarky comment, only to start a war on Instagram which led to the both of them digging up each other's past infidelities. Unable to carry on with the drama, Bieber left Instagram.
Even Bieber's friend, Kylie Jenner, thinks so .
But believe or not, this is not the most shocking reason why a celeb has abandoned a social media platform. Check out these other reasons:
#1 Iggy Azalea – the internet is so ugly
Iggy once left Instagram suddenly, without warning. Fans thought she might have left because she felt that the internet is full of nonsense, as suggested by her last few tweets before she left.
The Internet is the ugliest reflection of man kind there is.

— IGGY AZALEA (@IGGYAZALEA) February 19, 2015
Fans were then shocked to see this on her Instagram page:  
#2 Miley Cyrus – "Liam wants me to"
Before she left Twitter in 2009, Miley told her fans that Liam Hemsworth wanted her to leave Twitter:
"FYI Liam doesn't have a Twitter and he wants ME to delete mine with good reason"
She was quick to release a video to insist that she didn't leave Twitter for Liam, but for 'nobler' reasons like to "live in the moment".
Sure, we believe you, Miley.
#3 Rihanna – they didn't let her show her boobs
Instagram has a strict no-nudity policy. Rihanna once uploaded a topless photo of herself from her Lui magazine photoshoot, then it was instantly deleted from the social media platform.
That didn't stop Riri from posting more risque photos from her other photoshoots, to the extent that Instagram took her account down. Riri stuck to Twitter for a while before returning to Instagram.
#4 Mase – because Instagram took his followers
Mase used to have 1.7 million followers on Instagram… until the day Instagram decided to delete bots and fake followers from the platform. The rapper was only left with 272,000 fans, which didn't sit well with him, we guess.
Because he deleted his account after that.
#5 Tina Fey – it's too boring
Twitter is not good enough for Tina Fey because she thinks that "Twitteratis" are "the most boring people around".
Why doesn't she use it? "I think you should have to get a license to use Twitter because most people are so fucking boring that they should shut up," she said.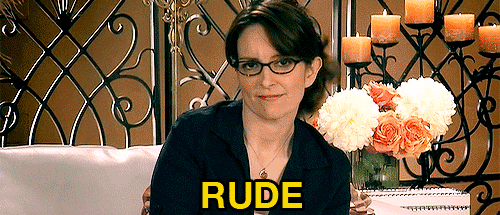 Oooh.
#6 Sam Smith – an Oscar speech gone wrong
Remember that time when Sam Smith confidently proclaimed that he's the first openly gay man to win an Oscar? He was slammed by the openly gay American screenwriter, director, film and television producer, Dustin Lance Black, minutes later for his incorrect statement.
Hey @SamSmithWorld, if you have no idea who I am, it may be time to stop texting my fiancé. Here's a start: https://t.co/8hGTRtIaMK

— Dustin Lance Black (@DLanceBlack) February 29, 2016
Ouch. Sam Smith briefly left Twitter after the embarrassing speech. But later on, they announced that they're still friends.
Dustin is just one of many openly gay men to win an Oscar, with others Alan Ball who won for 'American Beauty', Elton John who won for the soundtrack to 'The Lion King'.
Source: MTV
* * *
Words by Esther Chung
–
Read Next: 7 Things You Should Never Do After a Breakup
Want more celebrity-related hilarity? Click here for 7 things you shouldn't do after a breakup, inspired by disastrous celebrity breakups.